Regular price
$82.00 USD
Sale price
$76.00 USD
Unit price
per
Sale
Sold out
Description

The Serenity Ring is the perfect companion for students, professionals, and those with anxiety or attention deficit hyperactivity disorder (ADHD).

Introducing the Serenity Ring, the ultimate accessory designed to keep your fingers busy and your mind focused. This innovative fidget ring combines style and functionality, offering a practical solution for anyone who needs a discreet outlet for restless energy.

Crafted with meticulous attention to detail, this anxiety ring is made from high-quality materials that ensure durability, comfort and style. Select from moonstone or classic black onyx stone.

Whether you're at work, in a meeting, at home, studying, or on the go, this gold fidget ring discreetly allows you to channel excess energy without disturbing others or detracting from your concentration.

With the Serenity Ring, you'll stay focused, regain productivity, and embrace a calmer state of mind while adding a touch of style to your everyday life. 

*Enjoy a complementary jewellery travel case with purchase of the Serenity Ring. Offer expires September 30, 2023.

*All pre-orders will ship in 2-4 weeks.
Details

Details: 

Material: Gold Vermeil and Sterling Silver

Stones: Emulated black onyx or emulated moonstone 

Stone size: 6 x 9 mm 

Size: 8.9mm x 15mm 

Height: 5mm

Band width: 2.6mm

Weight: 5.5 g
About the collaboration

Introducing our exclusive collaboration with The Nutrition Junky: The Serenity Ring. This limited edition fidget ring is designed for individuals seeking constructive ways to manage their symptoms of anxiety or ADHD.

Featuring a gold vermeil band and a rotating centerpiece made of black-onyx or moonstone, the Serenity Ring not only enhances concentration and productivity but also offers a positive approach to stress management.

Who better to partner with than Becca Harris, co-host of The Unsavory Podcast and Founder of The Nutrition Junky, a female-focused social platform dedicated to the education, nutrition and well being of those with ADHD. 

With the Serenity Ring, you'll stay focused, regain productivity, and embrace a calmer state of mind while adding a touch of style to your everyday life.
Shipping

Enjoy free shipping on all Canadian and US orders over $150.

All serenity pre-orders ship within 2-4 weeks of the order date.

All other orders ship within 2-5 business days from when the order is placed.

Made-to-order items ship within 2-4 weeks from when the order is placed. Made-to-order products are identified in product descriptions.
Returns

Enjoy hassle-free returns within 15 days from when an order is placed.

All products must be in their original condition without signs of wear and in the original packaging.

Engraved products and made-to-order products are FINAL SALE. Made-to-order products are identified in product descriptions.
Jewellery Care

Our gold vermeil pieces are made with a base of 925 sterling silver with a thick layer of 14K gold plating. Vermeil pieces are of a higher quality than traditional gold plating but do require care. While we use the finest materials to create our pieces, gold vermeil can tarnish over time due to water overexposure, lifestyle factors, and your body's PH. To extend the life of your LACONIC gold vermeil pieces they should be removed while exercising, swimming, showering, and sleeping. We recommend regularly polishing your vermeil pieces with our LACONIC jewellery cloth. The spinning emulated onyx or moonstone by using a hair dryer on low he spinning mechanism

We are always here to help you care for your jewellery. Have any questions? Visit our Jewellery Care Page or email us at customercare@laconicjewellery.com.
Questions? Contact us.

Have a question about our products? We're here to help. Visit our FAQ or email us at customercare@laconicjewellery.com
Share
View full details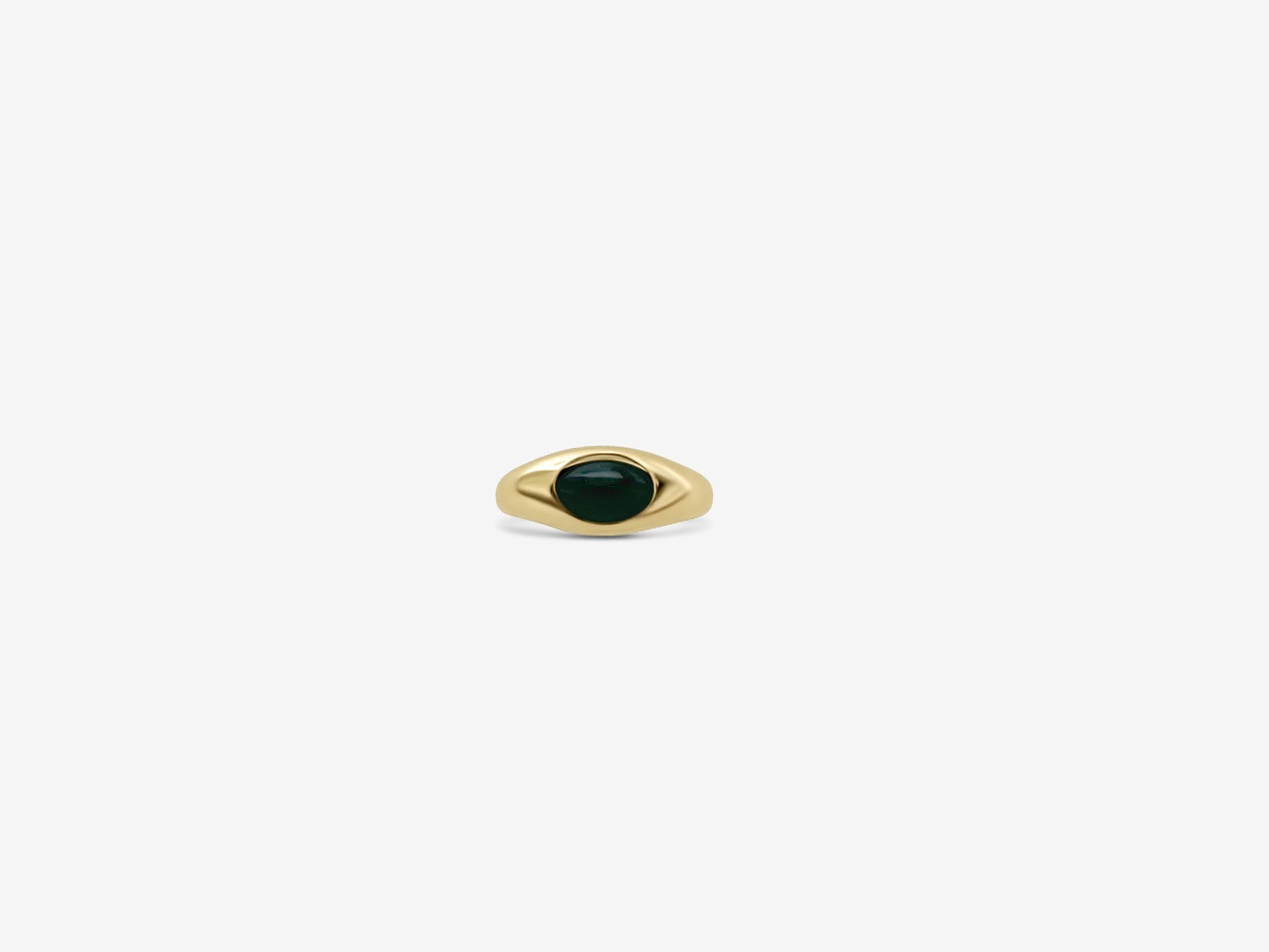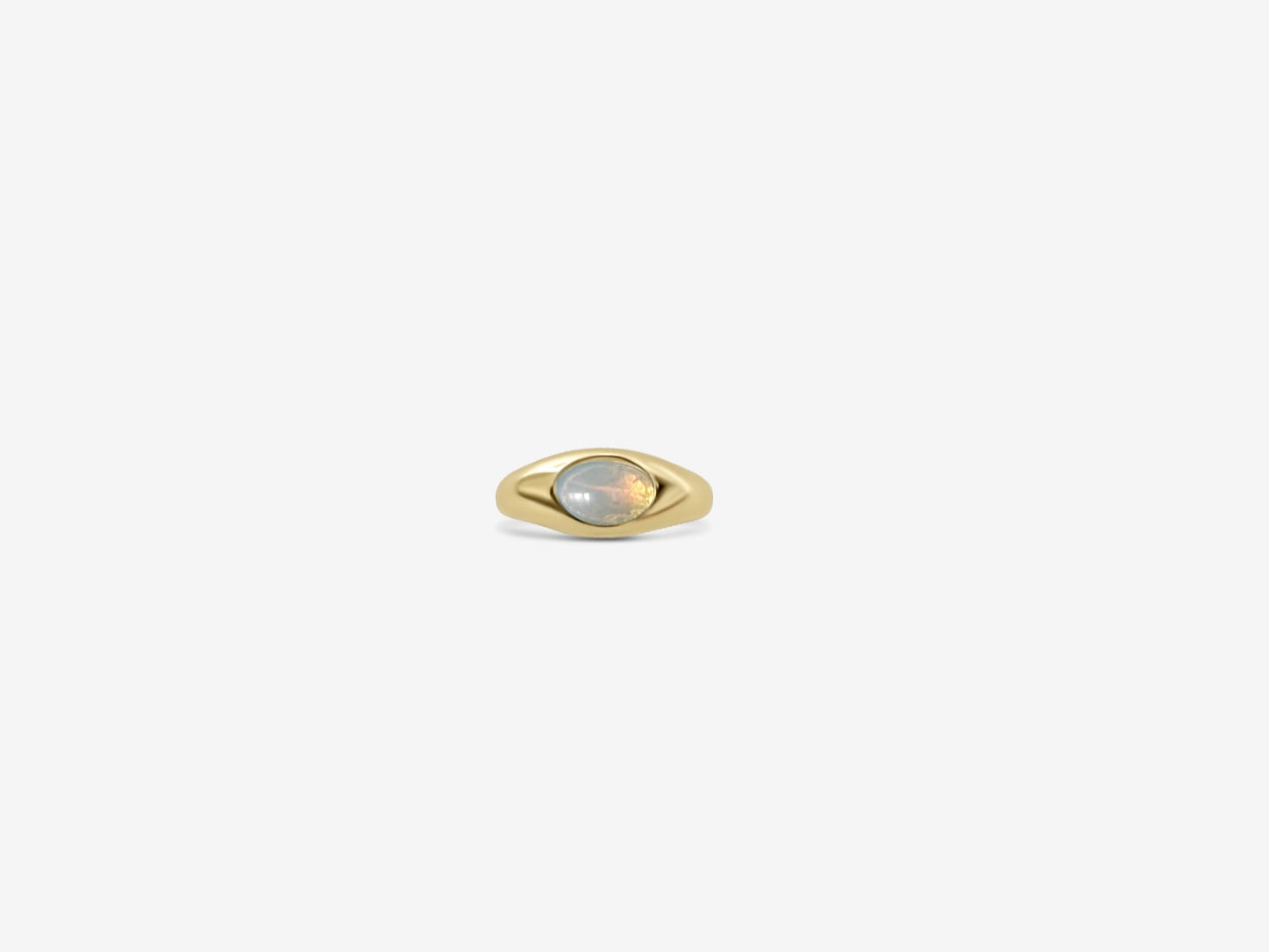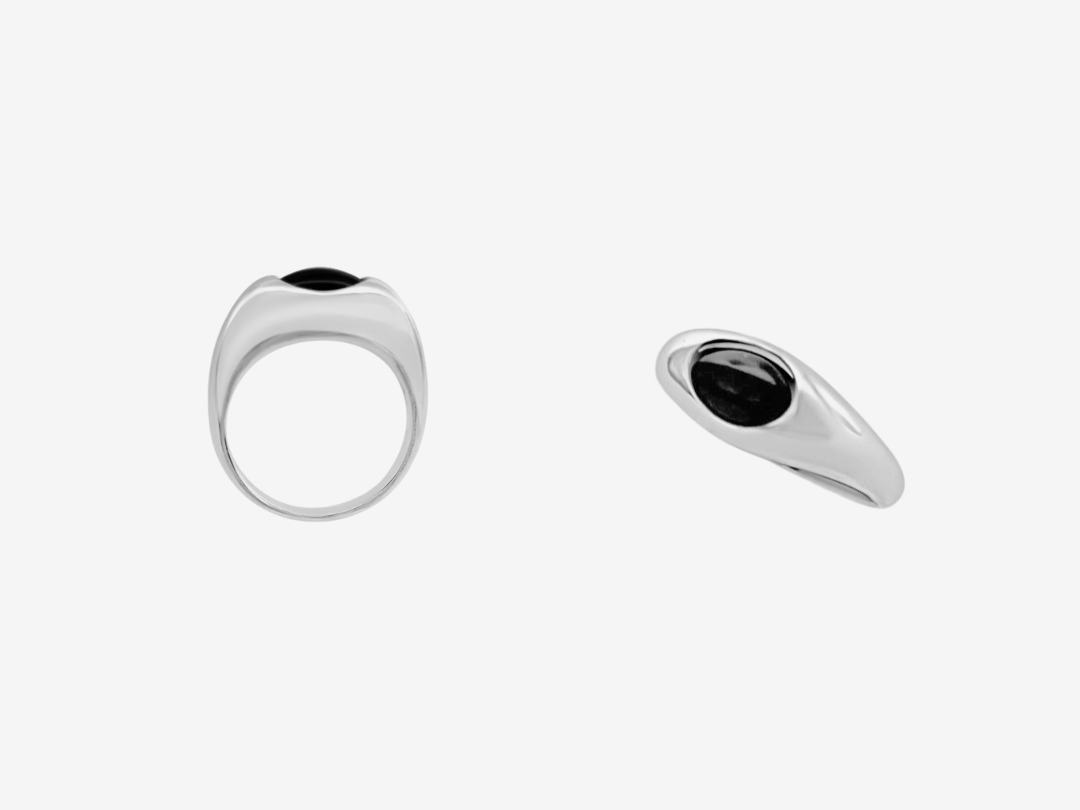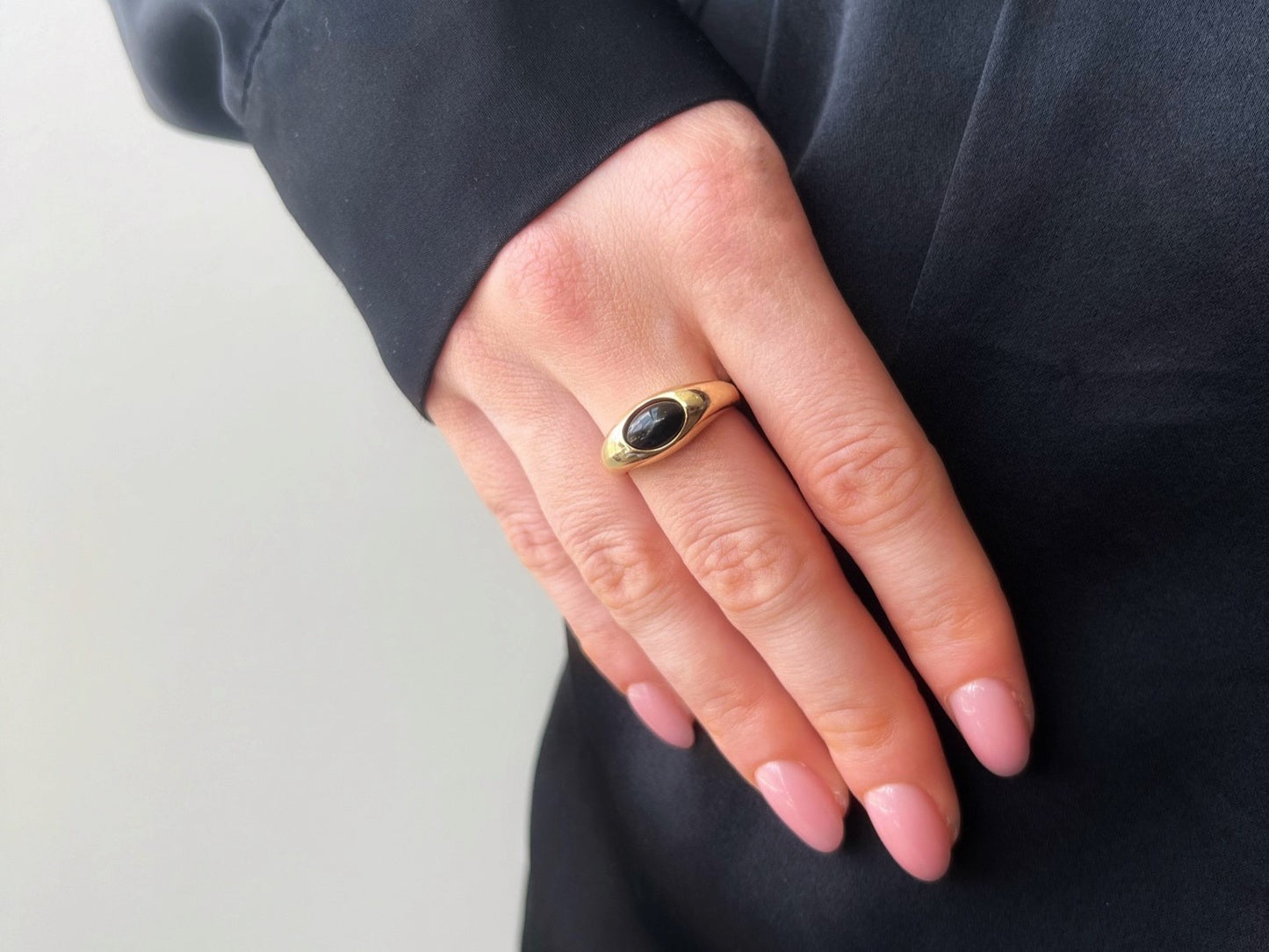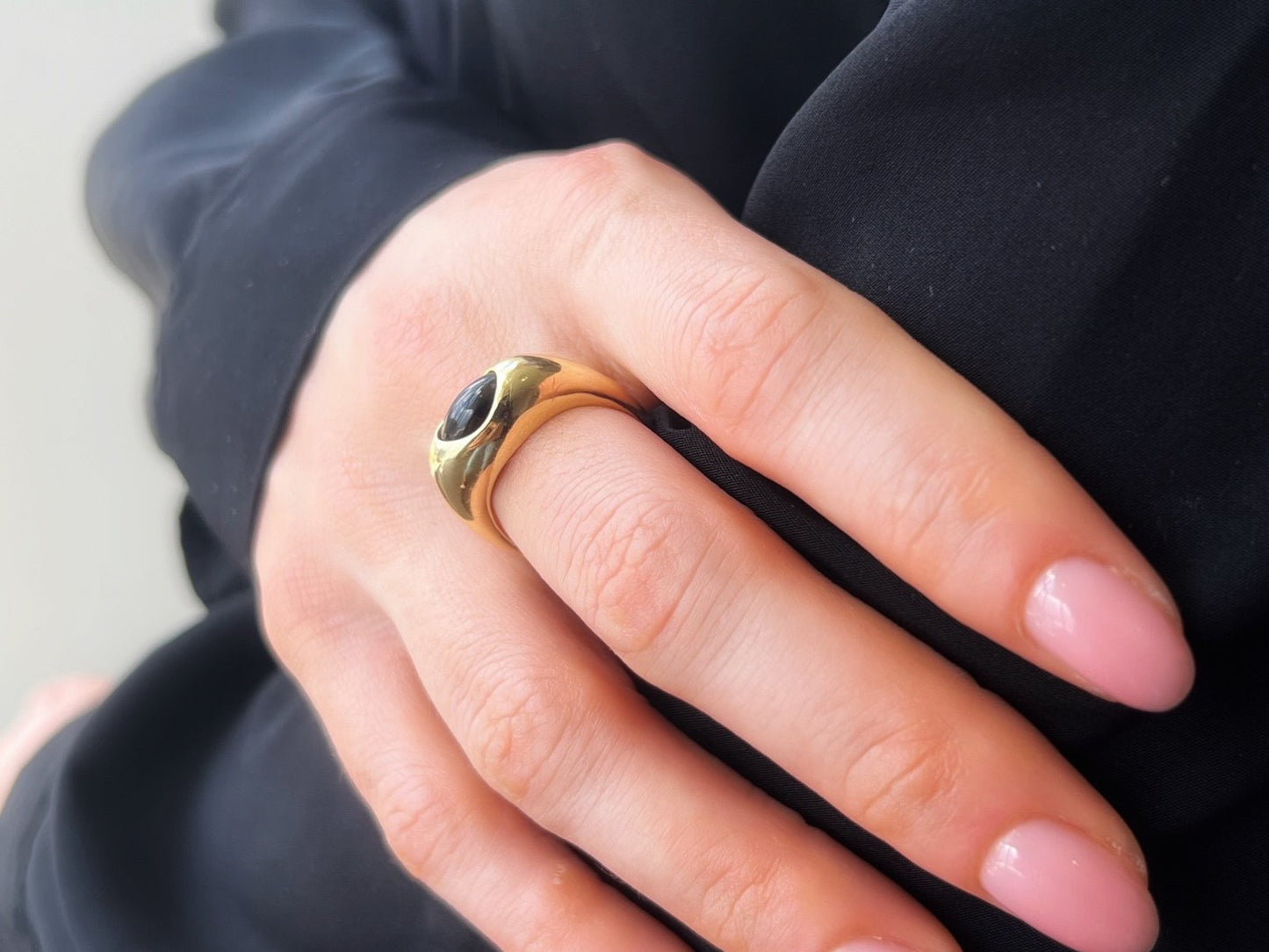 In love!
Absolutely LOVE this ring. At first I was a little nervous because the stone didn't roll as easily as I would've liked, but it has loosened over time perfectly and now moves freely 🙏🏽
Amazing gift!
Bought this ring for my wife since I found the concept quite revolutionary. I was there for the unboxing and was an immediate smile to her face. The quality of the product and the packing are the best. My wife is a very tough customer and there was no hesitation- top ratings for this product !
A Stylish Solution for Fidgeting, Focus & Restlessness
I was so excited to receive my Serenity Ring this week! I have ADHD and really struggle with picking my skin/nails and also feel calmer and like I have more clarity when I'm moving or my hands are busy. For a while now I've been looking for a fidget ring to wear daily as an alternative to fidget toys or playing with my wedding bands. When a friend suggested the Serenity ring I knew I had to try it. After some back and forth I ended up choosing the Onyx and was impressed with the quality when it arrived. I also love that it is stylish and doesn't feel too big on my finger. Although as someone who exclusively wears silver jewellery, I do hope a silver version gets released eventually! Apart from going to the gym or showering, I haven't taken it off and have even been wearing it to bed and using it while falling asleep. I have definitely noticed I'm picking less, but I also seem to be falling asleep more easily - which was an unexpected but welcomed bonus.